2 Seat Aircraft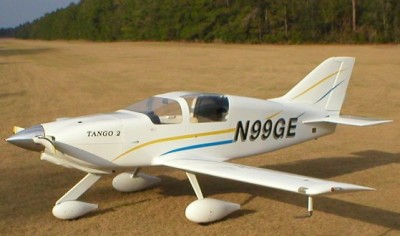 180 hp, 180 knots, 1,800 nautical mile range.
   Those are the basic performance numbers for the RAI-1.  The basic description is: Fun, feels like a little fighter.  A typical reaction is "I love it".
Approaching the plane, you may wonder about the raked back wind screen and what the visibility will be like.  And what about those leaned back seats.  Once airborne nearly everyone is pleasantly surprised at how good the visibility actually is.  Some new pilots tend to climb because the nose is lower on the horizon than what they are used to.  Also, no complaints about the seats.  The angle is about the same as an F-16 seat.
Many people who have never flown with a stick before say "this is how all airplanes should be built" after a few minutes of a demo flight.  The plane is very responsive in pitch, but also very stable.  Given an aft stick pulse, stick free, the nose will quickly pitch up and come back to level in about one second with no overshoot. It's tough to beat damping out in half a cycle.  The FAA requires certified airplanes to dampen in three cycles. The plane uses a stabilator and anti-servo tab instead of a conventional horizontal stabilizer, elevator, and trim tab.  The combination is very effective and allows you trim to maintain an altitude within about fifty feet, hands off.
Gentle turns take a little nudge on the stick to start the roll and another nudge to stop when you get the bank angle you want.  Little to no rudder is required.
While the RAI-1 certainly isn't a light sport, it sure can handle like a light sport at low speeds! Stall speeds of 57 knots at light weight ensure safe landings for low time pilots. With a short takeoff distance of 650 ft, it's getting close to the envelope of STOL aircraft. Fixed gear ensures no landing gear mishaps, and more affordable insurance, while still breaking the magic 200 mph barrier.  The main landing gear is beefy spring aluminum from Grove Aircraft with 5.00 X 5 tires.  It works just fine on grass and up to twenty-five knot cross winds.
For pilots looking for an unmatched combination of speed, range and performance in a safe, sleek, roomy, and affordable, two place aircraft, this is it.
With its 180-knot cruise speed and 1,800 nautical mile range, the RAI-1 "Tango" is an exciting aircraft to own.  The low parts count, fixed gear, builder's center option, and low drag design truly let you Build Fast, Fly Faster.  Contact us today and we can start to build the airplane of your dreams.
PERFORMANCE
Max Speed
230 kts, 264 mph
Cruise Speed
180 kts, 207 mph
Stall
61 kts / 70 mph @2,200 lbs

57 kts / 66 mph @ 2,000 lbs

Range
1,800 nm / 2,070 sm
Rate of Climb
1,450 fpm @ 2,200 lbs

1,600 fpm @ 2,000 lbs

Service ceiling
20,000 ft
Takeoff distance
650 ft
Landing distance
950 ft
 
 
ENGINES
Engines
IO-320 through IO-390
Horsepower for performance quote
180 hp
Acceptable Horsepower range
150 hp – 210 hp
DIMENSIONS AND WEIGHT
Fuel capacity
86 Gallons (516 lbs)
Empty weight
1,200 lbs
Gross weight
2,200 lbs
Useful Load
1,000 lbs
Payload, full fuel
452 lbs
Baggage Capacity
12 (cu. ft.)
 
 
DIMENSIONS
Cabin Width (in.)
44
Cabin Height (in.) (not seating height)
37
Height (ft)
6.75
Length (ft)
20.0
Wingspan (ft)
26
Wing area (sq. ft)
78
Wing Loading (lbs./sq. ft.)
28.2
Aspect Ratio
8.7:1
G-load (design)
+6 / -6
No. seats
2
MISC.
Landing gear
Fixed Tri-gear
Construction Materials
Fiberglass Composite
 
 
Join the REVOLUTION at Revolution Aviation Build Centers!
        build fast…..
                          fly faster !